Award for another Pecos River book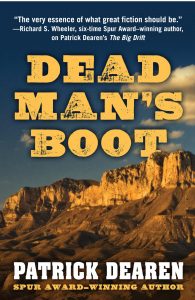 Patrick Dearen, author of Bitter Waters: The Struggles of the Pecos River, has won another award for a book that concerns the Pecos River.
The Academy of Western Artists selected Dearen's novel Dead Man's Boot as its Elmer Kelton Fiction Book of the Year.  The awards show will be held March 15 in Fort Worth.
Dead Man's Boot, which is set along the Pecos in Texas in 1869, is the story of a man's search for answers in the death of his sister.  The quest takes him from the Pecos to the Guadalupe Mountains, where legendary gold may await.  The novel is available in hardcover, large print, and ebook from online sellers such as Amazon: https://www.amazon.com/Dead-Mans-Boot-Patrick-Dearen/dp/1432833081