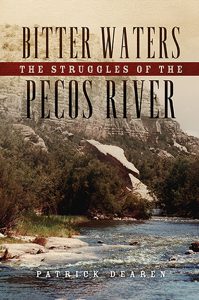 BITTER WATERS: THE STRUGGLES OF THE PECOS RIVER



By Patrick Dearen of Pecos River Resolution Corporation
Published 2016 by University of Oklahoma Press

*** Winner, 2016 New Mexico-Arizona Book Award for Nature and Environment ***
"Bitter Waters offers an artesian well of information that will captivate the leisurely and scholarly-minded alike. From rich descriptions of the river's ecology and geomorphology to colorful narratives of present-day apologists and adversaries, author Patrick Dearen gives a clear-eyed and unfettered picture of the river's historical and contemporary struggles. Whether you worry about the future of our wild things in wild places, depend on the river for your land or your livelihood, or simply care for a tough old meandering river that has loomed large in the history and settlement of the West, this book needs to be at the top of your reading list."  Carter Smith ~ Executive Director, Texas Parks and Wildlife Department
"A thought-provoking study. To all who realize that water will be more priceless than gold, this is a must-read."
~Ray Willis, New Mexico commissioner, Pecos River Commission
"Bitter Waters is full of facts and numbers but is a comfortable read. As author Patrick Dearen shows, the current and future demands on the Pecos will likely bring on some great challenges."
~Rick Tate, Texas commissioner, Pecos River Commission
"A stellar contribution to the literature on the Trans-Pecos itself, and as such, to the environmental history of Texas and the Southwest . . . In his preface Dearen expresses the hope that Bitter Waters might 'provide an essential foundation for the next generation of endeavors and policies.' Unquestionably it does."—Literal Magazine
"An important well-crafted book."—Dallas Morning News
"The first book-length treatment of the environmental history of the 926-mile Pecos River."—Abilene Reporter News
"A scholarly, detailed, sobering history of environmental abuse, complete with maps and captivating photographs."—Roundup Magazine of Western Writers of America
"A very good job [of] defining the problems and issues with the Pecos River and their cause-and-effect cycles . . . Very readable and interesting."—Artesia News
"Well researched, well written, and an interesting read . . . A significant book about an important river. . . A great addition to the literature of Southwestern rivers."—Southwestern Historical Quarterly
"Although written with the narrative flair and accessible simplicity of good journalism, it is unusual in this genre in including the accoutrements of a solid academic monograph. Footnotes, bibliography, and index combined account for 69 of the volume's 241 pages."—Edgewood News and The Independent
"Heavily researched . . . Lively prose . . . Dearen's work serves as both important historical documentation and as a cautionary tale for man's future relationship with land and water."—Panhandle-Plains Historical Review
"Dearen . . . offers enough detail to satisfy an avid student of water resources in the West, while seeding his narrative with historical stories intriguing to the general reader . . . Dearen's many years of involvement with the Pecos help bring its problems to light for all of us." —New Mexico Magazine
"Exhaustive research . . . Wide-ranging interviews . . . Students of the Pecos and other western rivers will find Bitter Waters a worthwhile addition to their libraries."—True West Magazine
"Prize-winning author Patrick Dearen skillfully paddles readers downstream . . . without missing a stroke . . . A brisk narrative that covers a range of immensely complex environmental challenges and emotionally charged socioeconomic issues."—Odessa American
"Dearen brings his novelist's skills to natural ecology, and he does an excellent job . . . As a result, Bitter Waters is more literary than expected. Dearen's prodigious research provides a wealth of well-organized facts and figures snugly wrapped in narrative."—Lone Star Literary Life
"A history that needs to be shared . . . Boils the story down to its most basic elements . . . The strength of Dearen's work is the perspective he brings to a subject that is usually dominated by lawyers, scientists, academics, and bureaucrats."—Texas Water Journal and Texas Tribune
————————————————————————————————————————————————————————–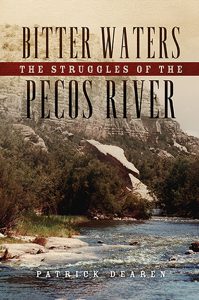 For Immediate Release
Contact:
Lourcey Sams, President
Pecos River Resolution Corporation
432-682-8261
Patrick Dearen, Author
432-699-6103
Pecos River environmental book published
The first book-length environmental history of the Pecos River has just been released. "Bitter Waters: The Struggles of the Pecos River" by Patrick Dearen culminates six years of research and writing sponsored by Pecos River Resolution Corp. The publisher is the University of Oklahoma Press.
"Bitter Waters" examines man's progressive impact on the Pecos throughout the 926 miles from its New Mexico headwaters to its confluence with the Rio Grande on the Texas-Mexico border. It also explores the river's many problems and the potential for solutions.
"The University of Oklahoma Press is proud to bring out Patrick Dearen's 'Bitter Waters,'" said J. Kent Calder, acquisitions editor. "It is an important and timely study of a southwestern river and the difficulties that have threatened its existence over time, such as drought, salt, fires, dams, irrigation, and intense interstate competition. Dearen clearly delineates these issues and many more in a readable narrative that disentangles the vast complexities of a situation that continues to deteriorate, providing a firm foundation for all those who will have a role in determining the future of this iconic western water source."
"Bitter Waters" has been endorsed by officials in both New Mexico and Texas. Ray Willis, New Mexico's commissioner on the Pecos River Commission, calls it "a thought-provoking study" and "a must-read."
Carter Smith, executive director of Texas Parks and Wildlife Department, said the book "offers an artesian well of information that will captivate the leisurely and scholarly-minded reader alike…. This book needs to be at the top of your reading list."
Pecos River Resolution Corp. was chartered in 2007 for the purpose of creating an environmental history of the Pecos River, documenting its issues and exploring possible alleviation methods.
Dearen is the author of 22 other books, including several on the Pecos River. A resident of Midland, Texas, he was the 2015 winner of the prestigious Spur Award of Western Writers of America.
The PRRC's website can be found at www.pecosriverresolution.com