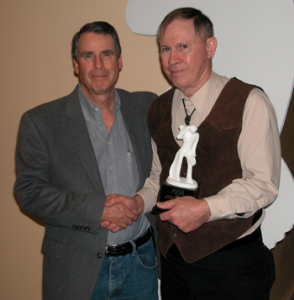 The Academy of Western Artists has presented Patrick Dearen with the Elmer Kelton Award for Fiction for his historical novel set on the Pecos, Dead Man's Boot.
The ceremony, which will be televised in May on the Cowboy Channel, was held March 15 in Fort Worth. TCU Press director Dan Williams, shown at left, presented Dearen with the award statuette.
Dearen researched and wrote Bitter Waters: The Struggles of the Pecos River on behalf of Pecos River Resolution Cooperation.
In 2017, Dead Man's Boot also received the Will Rogers Bronze Medallion for Western Fiction, and was a finalist for the Peacemaker Award of Western Fictioneers.