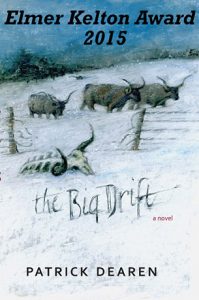 The Academy of Western Artists has notified Patrick Dearen, project biographer, that his novel The Big Drift has won its 2015 Elmer Kelton Fiction Book of the Year Award.
Dearen will receive the award March 28 at ceremonies in Irving, Texas.
Since 1996, the Academy of Western Artists (AWA) has presented annual awards to musicians and artisans who celebrate the American West. Last year, AWA added a book award named for Elmer Kelton, who died in 2009. Kelton, a seven-time Spur Award winner, was voted by Western Writers of America as the all-time best western novelist.
The Big Drift, published by TCU Press, is a historical novel set during the great cattle migration of 1884. Late that year, a Great Plains blizzard pushed hundreds of thousands of open-range beeves down into Texas, where the animals flooded the Pecos and Devils rivers.